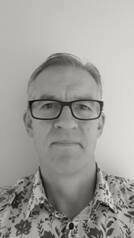 As a physiotherapist, Mark's passion is in rehabilitation, specifically with difficult musculoskeletal presentations. With extensive experience in chronic complex compensable presentations, headaches, concussion, foot and ankle problems and general musculoskeletal and pain conditions.
He has 35 years of physiotherapy experience, including being the chief of physiotherapy at Alfreda Rehabilitation, as well as working with injured workers from RDNS, Detmold and Inghams. More recently, Mark spent the last 2 years as the onsite physiotherapist at an abattoir in Murray Bridge.
Mark believes that a simple pause to ask for questions, and to explain can often hasten the overall recovery for a concerned individual. He also believes in interdisciplinary care as one can always learn to make decisions better this way; listening leads to learning.
He believes that every patient deserves to be optimised in function and enjoyment of their daily tasks physically, and by delivering caring drive for people struggling with improvement and empowering them toward recovery has been the hallmark of his approach and results.
Apart from occupational physiotherapy, Mark is also passionate about educating new post graduate physiotherapists, by being in education committees and is also involved in cancer rehabilitation in head and neck surgery.
Outside of work, Mark is an avid Taekwondo black belt practitioner, and enjoys spending time with his wife and 2 teenage boys.

Find us at Rose Park and Salisbury
Would you like to learn more about Next Generation Occupational Medicine or would like to arrange an appointment? Contact us via one of the methods here, we'd love to chat.